Upcoming: Imperial Splendor at Salzburg Cathedral in December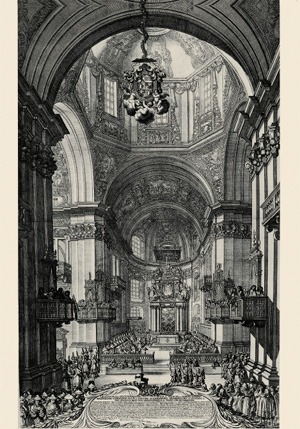 Simon Carrington directs the Biber Vespers Friday, December 20th at 8 pm, First Lutheran Church
Simon Carrington reprises his acclaimed 2004 performance of the Biber Vesperae Longiores ac breviores with Canto Armonico in Boston, in a new setting for the season of Advent.
Evoking the baroque splendor of Salzburg Cathedral where Heinrich Biber spent much of his career, the music features elaborate and virtuosic solos for voices and strings by Biber and his contemporaries, including the talented Holy Roman Emperor Leopold I.
Our First Recording to Appear on Hungaroton/Naxos in 2014!
Chorales of Michael Praetorius, Heinrich Schütz, Johann Hermann Schein, and Samuel Scheidt
This fall, Canto Armonico was privileged to participate in a recording of Bach's monumental Clavierübung III, a collection of organ chorales published late in the composer's life. The organ performances are by Balint Karosi, winner of the Leipzig Bach competition in 2008 and a regular soloist in our concerts. To introduce the organ chorale versions, Canto Armonico chose simple versions of the chorales, ones that Bach would have known from his youth. These include both hymnal settings of the late 1600s from two songbooks used in Leipzig churches and slightly more elaborate versions that were sung by choirboys at the schools Bach attended, as follows:
Kyrie, Gott Vater in Ewigkeit: chant from the Leipziger Gesangbuch, polyphonic setting by Heinrich Schütz
Allein Gott in der Höh sei Ehr: chorale from Scheidt's Görlitz Tabulaturbuch, polyphonic setting by Michael Praetorius
Dies sind den heilgen zehn Gebot: chorale from Schein's Cantional, duet for basses by Michael Praetorius
Wir glauben all in einen Gott: chorale by Michael Praetorius, polyphonic setting by Samuel Scheidt
Vater unser in Himmelreich: chorale from Schein's Cantional, double chorus setting by Samuel Scheidt
Christ unser Herr zum Jordan kam: chorale from Schein's Cantional, duet for tenors by Michael Praetorius
Aus tiefer Not schrei ich zu Dir: chorale from Schein's Cantional, accompanied duet for sopranos by Johann Hermann Schein
Jesus Christus, unser Heiland: chorale from Schein's Cantional, double chorus setting by Michael Praetorius
The settings by Praetorius for two tenors and two basses, in particular, merit special attention as they demonstrate how adept the composer was at writing music for whatever forces were at his disposal! We recorded the chorales in September and October under the direction of Dr. Ulf Wellner, a specialist in the music of Michael Praetorius, who directed our June performance during Boston's Early Music Festival. Stay posted for updates on release of the double-CD issue of the Clavierübung III, planned for late 2014.
A North German Organvespers for the Feast of St. John the Baptist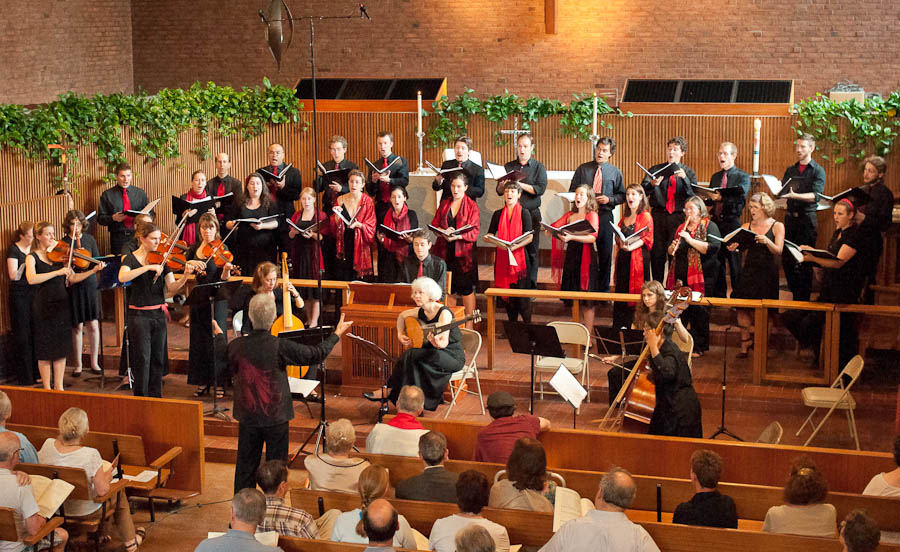 Saturday, June 15th at 5 pm, First Lutheran Church
A Boston Early Music Festival Fringe Event
Canto Armonico reprises its successful Organvespers from the Early Music Festival week of 2011, now in a setting for the feast of the Nativity of St. John the Baptist which falls on June 24th. To be held at First Lutheran Church, the program is structured like a German vespers service from the Hamburg area in the late 17th century. The feast of the Nativity of St. John the Baptist, like the feast of St. Michael at the end of September, marked the end of a fiscal quarter in much of Germany, and prudent church music directors could reserve funds to supply more elaborate music for those feasts, bringing in professional singers and instrumentalists to augment the regular choral and organ music in the churches and cathedrals.
We also celebrate the 350th anniversary of the death of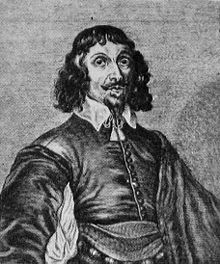 Heinrich Scheidemann, highly regarded organist in Hamburg and former student of Sweelinck whose compositions for the organ chorale introduced an expressive ornamentation style embraced by his followers across northern Germany.
Canto Armonico is pleased to present this program as a fringe event during the Boston Early Music Festival, with music ranging from chant to polychoral motets. We will be joined by an instrumental consort of recorders, gambas, theorbo and harp, and the unique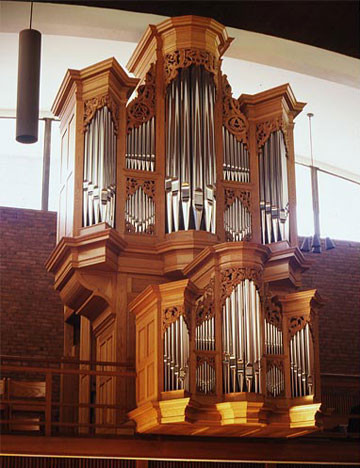 Opus X Richards & Fowkes organ, one of the finest instruments in the world for the rendering of 17th-century German repertory.
Vespers Music by Canto Armonico
Jakob Handl: Emitte Spiritum
Michael Praetorius: Der heil'ge Geist von Himmel kam
Michael Praetorius: Komm, heiliger Geist
Heinrich Schütz: Becker Psalm 104: Herr, wie gross sind deine Werk
Hieronymus Praetorius: Jubilate Deo