Festive Vespers for Trinity from Lübeck's Marienkirche, c. 1660
A Boston Early Music Festival Fringe Event
Saturday, June 13 at 5:00 pm, First Lutheran Church in Boston
Freewill offering in lieu of admission
The great church of St. Mary in Lübeck, on Germany's Baltic coast and a major, thriving center of trade from the late Middle Ages onward, had an equally thriving and distinguished music program, quick to adopt the new Venetian styles when they emerged in the 1600s. We present a festive vespers service of Venetian music for Trinity Sunday, as it might have been performed in the Marienkirche by the organist Franz Tunder, predecessor of Dieterich Buxtehude, and the cantor Samuel Franck in the 1660s. It was Tunder who established the elaborate programs of so-called Abendmusik with which Buxtehude is associated. The Marienkirche's collection of vocal music included vespers music by not only Monteverdi but also his successor at San Marco, Giovanni Rovetta, and his circle.
We are pleased to be able to work with the well-known Buxtehude (and Marienkirche vocal library) scholar Dr. Kerala Snyder, who has selected the music for this service. We also welcome back Dr. Ulf Wellner, former Kantor of St. Jakobi in Lübeck and a specialist in the performance of 17th-century north European music, who will direct the performances.
For use in the varied services at St. Mary's, Franz Tunder also composed cantatas and a substantial amount of organ music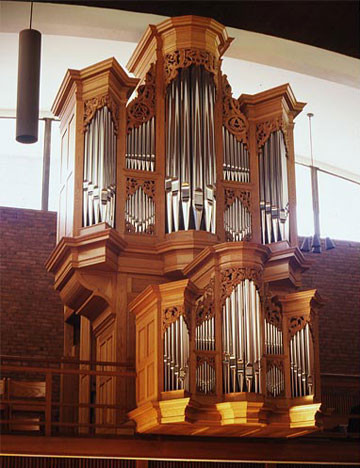 in styles familiar to today's church musicians acquainted with Buxtehude's organ works. Our vespers service will include his extended chorale fantasy on "Komm, heiliger Geist," the chorale that traditionally opened the afternoon service in Lübeck, and one of Tunder's many preludes, played by First Lutheran organist Bálint Karosi.
Canto Armonico is pleased to present this program as a fringe event during the Boston Early Music Festival, with music ranging from chant to polychoral motets.We will be joined by an instrumental consort of violins, gambas, theorbo and cornetto, and the unique Opus X Richards & Fowkes organ, one of the finest instruments in the world for the rendering of 17th-century German repertory.
Hear us in July for the Cape Cod Early Music Festival!
July 11th at 7 pm, St. Mary's Church, Barnstable, a program of Tudor church music
Our First Recording Appears on Hungaroton/Naxos!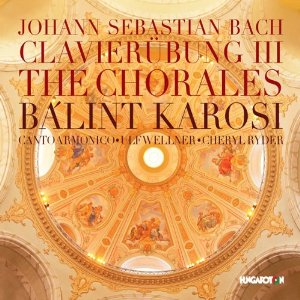 Chorales of Michael Praetorius, Heinrich Schütz, Johann Hermann Schein, and Samuel Scheidt
Now available from Hungaroton and iTunes, a new recording of Bach's monumental Clavierübung III by Bálint Karosi, with Canto Armonico performing the chorales that provide the basis for Bach's organ settings.
In this recording Canto Armonico is directed by Cheryl Ryder, artistic director and manager of Canto Armonico, and Ulf Wellner, former Kantor at Lübeck's Jakobikirche and now Kantor at the Martinikirche in Minden, Germany. Professor Markus Rathey of Yale University has written the liner notes.
Most current recordings of the Clavierübung III feature the organ chorale versions only, but this new recording immerses the listener in the 17th-century world of the young Bach and fellow composers, and demonstrates how central the sung chorale was to these German composers' lives. They would have known not only the simple versions of the chorales from church hymnals, but also many of the polyphonic settings published and sung by boys in the Latin school curriculum. Canto Armonico records a sampling of these polyphonic chorale settings alongside their simpler counterparts, as follows:
Kyrie, Gott Vater in Ewigkeit: chant from the Leipziger Gesangbuch, polyphonic setting by Heinrich Schütz
Allein Gott in der Höh sei Ehr: chorale from Scheidt's Görlitz Tabulaturbuch, polyphonic setting by Michael Praetorius
Dies sind den heilgen zehn Gebot: chorale from Schein's Cantional, duet for basses by Michael Praetorius
Wir glauben all in einen Gott: chorale by Michael Praetorius, polyphonic setting by Samuel Scheidt
Vater unser in Himmelreich: chorale from Schein's Cantional, double chorus setting by Samuel Scheidt
Christ unser Herr zum Jordan kam: chorale from Schein's Cantional, duet for tenors by Michael Praetorius
Aus tiefer Not schrei ich zu Dir: chorale from Schein's Cantional, accompanied duet for sopranos by Johann Hermann Schein
Jesus Christus, unser Heiland: chorale from Schein's Cantional, double chorus setting by Michael Praetorius
The settings by Praetorius for two tenors and two basses, in particular, merit special attention as they demonstrate how adept the composer was at writing music for whatever forces were at his disposal! We recorded the chorales in September and October under the direction of Dr. Ulf Wellner, a specialist in the music of Michael Praetorius, who directed our June 2013 performance of the St. John the Baptist vespers service during Boston's Early Music Festival.
A Praetorius Organvespers for the Feast of Pentecost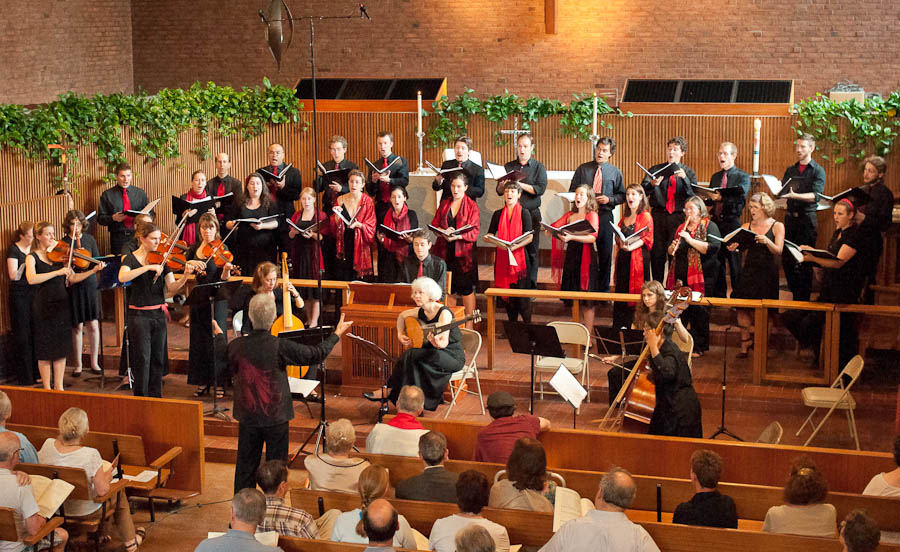 Canto Armonico performs music of Hieronymus and Michael Praetorius, with Bálint Karosi, Organ
Wednesday and Thursday, June 25-26 at 7:30 pm, First Lutheran Church
A Worship/Concert Pair with Joan Lippincott and the BEMF Orchestra
Under the spirited direction of Praetorius specialist Ulf Wellner, Kantor of the Martinikirche in Minden, Germany, Canto Armonico reprises its successful Organvespers for the feast of Pentecost from the Boston Early Music Festival in 2011, in a shortened version for the national convention of the American Guild of Organists in Boston. For this vespers service, we include propers and hymns for Pentecost from the vespers order given in the Hamburg service book Cantica Sacra, published by Franz Eler in 1588 and circulated in the Latin schools for use by generations of choirboys.
Our service culminates in the magnificent, four-choir "Te Deum Laudamus" by Hieronymus Praetorius, whose own compilation of chants and psalms was in use in Hamburg before Eler's publication. The two principal Pentecost hymns, "Komm heiliger Geist" ("Come, Holy Ghost") and "Nun bitten wir" ("We Now Implore the Holy Ghost"), both given in Eler's publication, will be sung by the congregation of organists.
Canto Armonico is pleased to present this program as an opportunity for worship during the 2014 national convention of the AGO. We will be joined by the Minister of Music at First Lutheran Church, Bálint Karosi, and an instrumental consort including sackbuts and cornetto, violins, gamba and theorbo, and the unique Opus X Richards & Fowkes organ, one of the finest instruments in the world for the rendering of 17th-century German repertory.
Vespers Music by Canto Armonico
Jakob Handl: Emitte Spiritum
Michael Praetorius: Der heil'ge Geist von Himmel kam
Michael Praetorius: Komm, heiliger Geist
Heinrich Schütz: Becker Psalm 104: Herr, wie gross sind deine Werk
Hieronymus Praetorius: Jubilate Deo